Safelog (both Safelog for PC and SafelogWeb) features incredibly powerful printing options - more powerful, more varied, and of higher quality than any other product out there, period.
The video above is designed to show you some of the printing features in Safelog. However, it's just a small taste of the power and versatility of Safelog's output capabilities.
While printing options vary slightly between the PC and web versions, in general Safelog can output the following:
Your logbook printed with the fields you want in the paper size you want to the margins you set.
A copy of your logbook in the style of numerous common printed logbook and government recommended formats, including:

FAA ASA-style (ASA-SP-6 and ASA-SP-301)
FAA Jeppesen-style
FAA "student pilot logbook" style
FAA "master pilot logbook" style
JAA JAR-FCL general style
JAA JAR-FCL 1.080
International logbook style (ASA-SP-61)
CAA CAP 407 Aircrew Logbook style (both 'old' and 'new' styles)
CAA form N-27 (English/French/Flemish/Dutch)
JAA Jeppesen-style
JAA Student Pilot Logbook
AFE Professional logbook
AFE Recreational logbook
CASA Australia general logbook style
CASA Australia professional logbook style
CAA New Zealand logbook style
Transport Canada logbook style (general and professional)
France DGAC
and many more!

The above (and more!) can be exported to PDF, MS-Word, MS-Excel, CSV, XML, and many other popular output styles.
Career summary reports, in PDF and HTML format.
Charts and Graphs of your logbook data. Extreme flexibility as to the type of charts and the data shown on them.
FAA IACRA/Form 8710, with your data computed right from the logbook
Currency reports, indicating where you stand with regards to pre-built and custom-definable regulatory and insurance/club/employer requirements.
FAA Checkride Readiness analysis to help you and your instructor see where you stand with regard to FAA aeronautical experience requirements.
Want to see some printouts?
While direct printing in the demo version of the Safelog for PC software is restricted (for obvious reasons), there is a way that you can see some of the many printouts available:
Go to www.safelogweb.com
Click on "try a demo" or an equivalent link.
Click on one of the demo logbooks that interests you.
Click on the "printing and reports" tab at the top.
Try navigating the tree at left and seeing the many reports available. For many of the reports, you can click on "save" to export this to a number of useful formats.
Please note that these SAME reports are available for Safelog for PC users (click on "print" then "method 2" in the Safelog PC software to see this.)
In addition to these printouts, Safelog features many powerful reporting tools to really help you analyze your data. Click here to learn more about these reports, including:
Instrument Approach Reports
Airport Reports
Career Summary (resume) reports
Aircraft reports
Thanks again for checking out Safelog!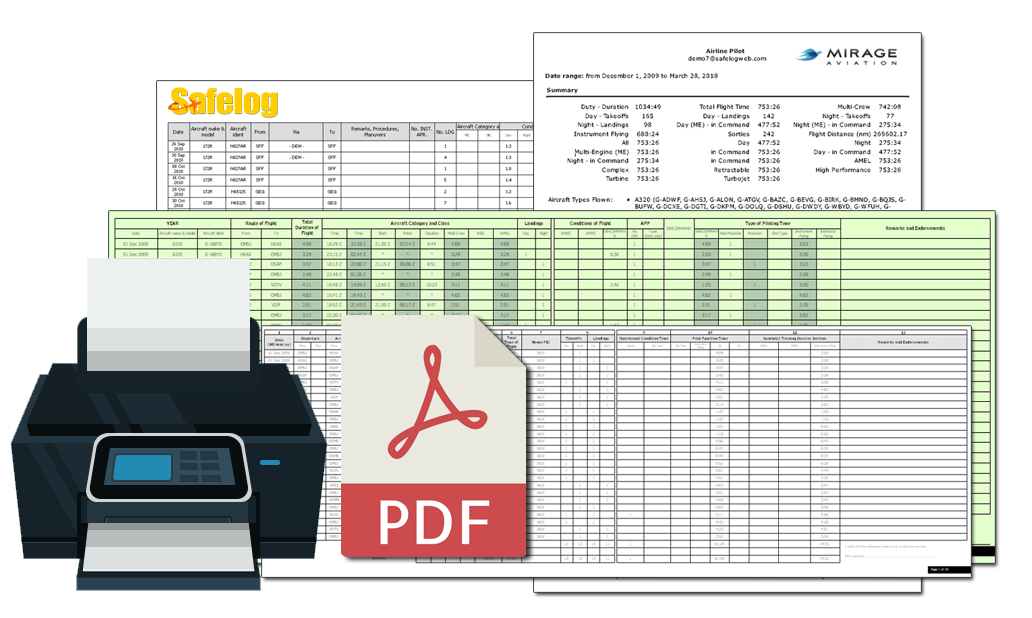 © 2023 Dauntless Aviation • 4950C York Road 110, Buckingham, PA, 18912, USA • Contact Us • Privacy Policy