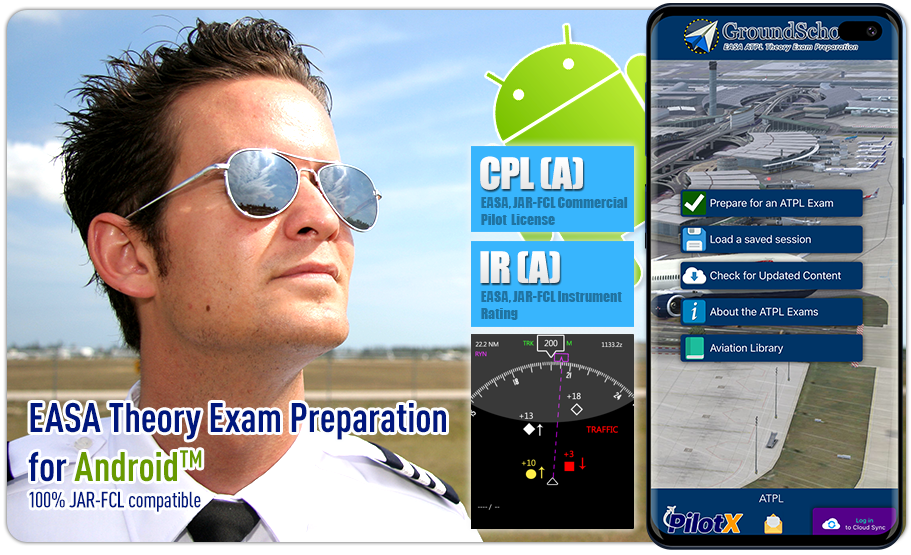 2023
2024
Our Android apps are available for purchase via the official appstores listed below. Please click one of the link below to be taken to the app store page for the app you are interested in. Most Android users should select a Google Play link below, not Amazon.
GroundSchool EASA (JAA) ATPL (Airplane)
EASA Theory Exam Preparation App

GroundSchool EASA (JAA) CPL (Airplane)
EASA Theory Exam Preparation App

GroundSchool EASA (JAA) IR (Airplane)
EASA Theory Exam Preparation App


The Android™ apps on this page work great with the vast majority of Android-based mobile phones (smartphones), tablets, and similar devices - however, they are NOT intended for use with your PC, Mac, or iPhone / iPad.

Apps including ours for Android devices are available for purchase via Google's Android App Market and/or Amazon's Android App Store. If you have a compatible Android-based device, you are welcome to purchase our Android apps from the Google Play (formerly known as the Android App Market) and/or Amazon Android App Store.

Our Android apps (programs) have been needed to be specifically designed, programmed, and tested (a process involving hundreds to thousands of hours and specialized skills and tools) to work on Android devices and they certainly do work great on them. However, this also means that they work on compatible Android devices only--purchases made via the Google Play and/or Amazon Android App Store are not compatible with and will not work on, for example, your PC, Mac, or iPhone/iPad.

If you'd like to use a given app for both your Android device and its equivalent piece of software for your PC, Mac, or iPhone/iPad (where one is available), as some people do in order to get 'the best of both worlds', you would need to purchase these separately. This 'a la carte' system ensures that you pay for only that which you intend to use and is fair to all involved.

We thank you for your understanding.
In addition to our PC, iPhone™ / iPad™, and WindowsMobile™ offerings, you can now study for your EASA ATPL(A), CPL(A) and/or IR(A) theory exam using our GroundSchool apps on your Android™ device!

Features include:
FREE built-in updates that ensure that you always have access to the latest CQB-simulating questions.
No expiration date. If you purchase it via the appstore now, you can study now and into the future as necessary.
All charts and figures that you'll need to reference are included (though, as with the PC versions, you need to get your own Jepp student route manual).
Compatible with all EASA classroom courses and all EASA-FCL/JAA-FCL syllabus programs.
Excellent ease-of-use.
Multiple study and learning modes
Take as many simulated practice exams as you'd like!
The apps are available via the Android Market™. Just click on one of the links above to learn more and/or to purchase. You can be studying on you Android device in no time!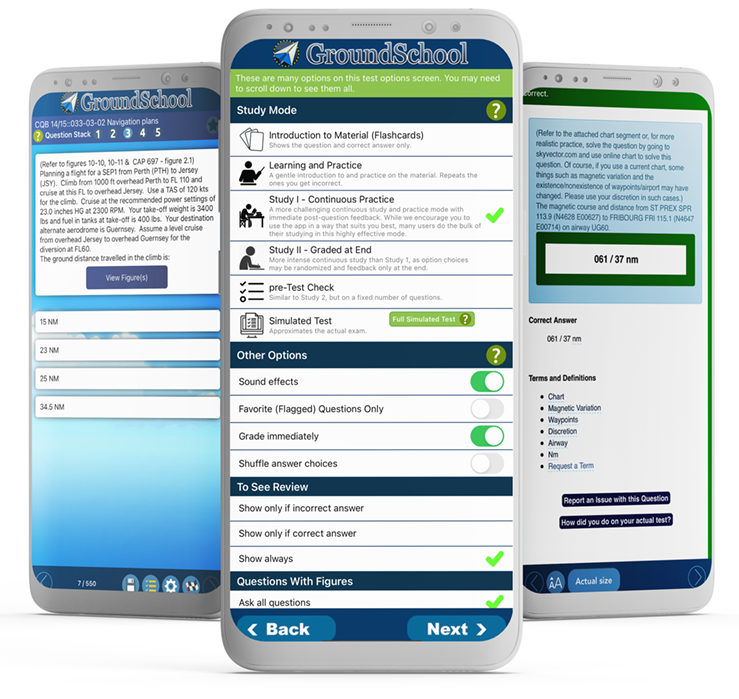 How do I purchase the Android™ versions?

Click on one of the links above. This will take you to the Android Market™ where you can purchase it just like any other App for your Android device. Ecommerce solutions for this are provided by Google™.

Will this work on my device?

Almost certainly yes. There are a great many Android devices out there (at the time of this writing, at least one new one is coming out per day). It is impossible for us to test on each device, however we do test on representative systems including the 'developer proof' systems that Google / Android represent as part of best practices for Android development. What this means is that the Apps above will almost certainly work great on your device if your device meets the minimum system requirements. If your device doesn't meet these requirements, the AppStore will normally prevent you from purchasing the App. That said, there are a few things you should be aware of:

First and foremost, if you get an error or something else seems not quite right, let us know about it via our helpdesk. Most errors that you are likely to encounter are actually quite minor--caused by small differences idiosyncratic to your device. While we understand that this may be frustrating in the unlikely event that you run into such an error, we appreciate your patience as our technical team is committed to finding and solving such issues promptly.
Second - make sure you have at least 250mb (that's one quarter of a gigabyte) of free memory (sometimes incorrectly, but ussefully, known as 'hard drive space') on your device. Our apps tend to be BIG - this is because they have a lot of great illustrations and other useful learning material for you. You must have enough free space to handle it! Most modern phones do.
A small number graphics may looks a bit oddly 'stretched' on larger (tablet) or higher density pixel screens. This is being systematically addressed as discovered. Again, please contact our helpdesk should you happen to encounter this.
Please do not blame us if you have trouble downloading the app from the Google Play! Some people report slowness in downloading the app from the Google Play. This is caused by (less likely) business of the Google Play servers or (more likely) the fact that your network connection is slow. Please be patient, and download the apps while connected via WiFi or better!. Large apps like ours tend to download poorly on 3G networks, and even worse on sub-3G Internet connections, so please be sensible about this and recognize that it may take time, and in some cases a few tries to download not because of a problem with our App, but because of your telecommunications setup. Also, even if you're connected via WiFi at a coffee shop, remember, most coffee shop networks are not that consistent - please do the download where you have a decent connection.

Do the apps contain study material for ALL of the, for example, ATPL(A) exams?

Yes! Each spp contains study material for all of the exams. For example, the ATPL(A) (Airplane) title will help you prepare for all 14 EASA ATPL Airplane tests. Sorry, we do not have Android™ titles available for individual tests, but, the plus side is that the price for this Android™ versions are a bit less than for our PC software.

I want to use both the PC and Android™ software. Can I get a discount?

We'd love to be able to offer this. Unfortunately, the Androidtrade; apps must be purchased via the Android Market and Google policy makes it impractical co-mingle promotions like this. (In fact, when you order the app, we don't even know that you are one of our customers).

Are the Android™ apps up to date?

Here's the really cool thing - the Android™ apps feature a built-in update mechanism. What this means is that with just a few clicks, our app will check the internet for updated data and download them to your device as necessary. This is integrated, fast, and free for those who have purchased the app. This helps ensure that you have questions consistent with recent CQB and actual exam practice. This puts our apps far ahead of competitors who rely on outdated, static datasets.

When does my app purchase expire?

Pursuant to the terms of the AppStore EULA, this is a LIFETIME PERSONAL LICENSE to use the app. In other words, it doesn't expire! It will be waiting for you when you need this. Compare this to our competitor whose more expensive product has very short expiration dates, forcing you to pay extortionate continuation fees if you want to keep studying before a test or review later on.

Do I need to be online to use the apps?

No, you don't! Once an app is installed on your device (after you purchase it from the Android Market), you don't need to be actively connect it to use it. This means, for example, that you can spend your time in a passenger seat of an automobile or aircraft studying even when you don't have an active internet connection. Of course, you need to have an internet connection to your device to get updates from our servers from time to time, but as far as everyday use goes, you certainly do NOT have to be connected to the Internet.

How many questions are in the apps?

The apps feature the same number of questions as the PC software. Our preps feature question sets very representative of current practice EASA CQB theory exam test banks.

How many questions are in the apps?

The apps feature the same number of questions as the PC software. Our preps feature question sets very representative of current practice EASA CQB theory exam test banks.
| | | | | | | | |
| --- | --- | --- | --- | --- | --- | --- | --- |
| | EASA (JAA) ATPL/CPL/IR Theory Exam Prep | | | | | | |
© 2023 Dauntless Aviation • 4950C York Road 110, Buckingham, PA, 18912, USA • Contact Us • Privacy Policy