Welcome to the Dauntless Aviation Glossary!

At Dauntless, our editorial staff maintains the web's largest unified glossary of aviation terms. This glossary is built from a combination of official, quasi-official, and proprietary sources (including original material that we develop oursselves). Uniquely, we often provide multiple definitions of a given term so that you can find that which best applies to you. In order to maximize your learning efficiency, this glossary (and similar ones for our international users) is incresingly fully integrated into our aviation learning apps, including our FAA written test prep and FAA practical test prep software and apps. If you like this glossary, you'll love them with their polished learning environments and world's best and clearest content (please do give them a try.).
Temporary Flight Restriction
A TFR is a regulatory action issued by the FAA via the U.S. NOTAM System, under the authority of United States Code, Title 49. TFRs are issued within the sovereign airspace of the United States and its territories to restrict certain aircraft from operating within a defined area on a temporary basis to protect persons or property in the air or on the ground. While not all inclusive, TFRs may be issued for disaster or hazard situations such as: toxic gas leaks or spills, fumes from flammable agents, aircraft accident/incident sites, aviation or ground resources engaged in wildlife suppression, or aircraft relief activities following a disaster. TFRs may also be issued in support of VIP movements; for reasons of national security; or when determined necessary for the management of air traffic in the vicinity of aerial demonstrations or major sporting events. NAS users or other interested parties should contact a FSS for TFR information. Additionally, TFR information can be found in automated briefings, NOTAM publications, and on the internet at http://www.faa.gov. The FAA also distributes TFR information to aviation user groups for further dissemination.
source: FAA Pilot/Controller Glossary
Temporary Flight Restriction (TFR): A restriction to flight imposed in order to:
Protect persons and property in the air or on the surface from an existing or imminent flight associated hazard;
Provide a safe environment for the operation of disaster relief aircraft;
Prevent an unsafe congestion of sightseeing aircraft above an incident;
Protect the President, Vice President, or other public figures; and,
Provide a safe environment for space agency operations.
Pilots are expected to check appropriate NOTAMs during flight planning when conducting flight in an area where a temporary flight restriction is in effect.
source: FAA Pilot's Handbook of Aeronautical Knowledge (FAA-H-8083-25A)
Temporary flight restriction (TFR): Designated airspace of specified dimension where flight is temporarily restricted or prohibited. NOTAMs are issued to advise airmen of local TFR restrictions.
source: FAA Weight Shift Control Handbook (FAA-H-8083-5)
A Temporary Flight Restriction (TFR) is a geographically-limited, short-term, airspace restriction, typically in the United States. Temporary flight restrictions often encompass major sporting events, natural disaster areas, air shows, space launches, and Presidential movements. Before the September 11, 2001 attacks, most TFRs were in the interest of safety to flying aircraft with occasional small restrictions for Presidential movements. Since 9/11, TFRs have been routinely used to restrict airspace for 30 nautical miles around the President, with a 10-nautical-mile (20 km) radius no-fly zone for non-scheduled flights. They are also available to other important people such as presidential and vice-presidential candidates.

The responsibility for screening requests for TFR and for subsequent granting or denying them, lies with the FAA's Office of System Operations Security.

The pertinent sections of the FAR (14 CFR Sections 91.137, 91.138, 91.139, 91.141, 91.143, 91.145, 99.7) describe temporary flight restrictions (TFR).
source: Wikitionary / Wikipedia and Related Sources (Edited)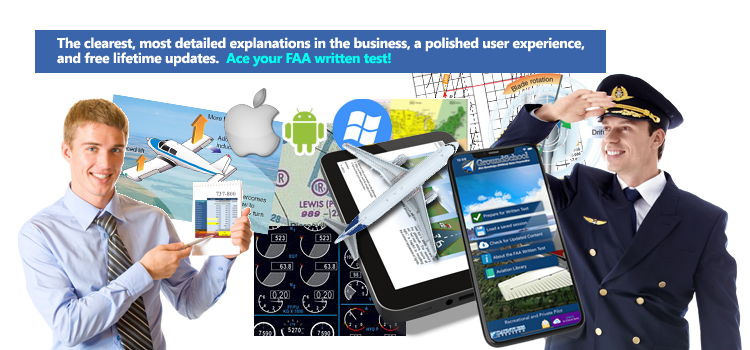 Ace Any FAA Written Test!

| | |
| --- | --- |
| | Actual FAA Questions / Free Lifetime Updates |
| | The best explanations in the business |
| | Fast, efficient study. |

Pass Your Checkride With Confidence!

| | |
| --- | --- |
| | FAA Practical Test prep that reflects actual checkrides. |
| | Any checkride: Airplane, Helicopter, Glider, etc. |
| | Written and maintained by actual pilot examiners and master CFIs. |

The World's Most Trusted eLogbook

| | |
| --- | --- |
| | Be Organized, Current, Professional, and Safe. |
| | Highly customizable - for student pilots through pros. |
| | Free Transition Service for users of other eLogs. |
Disclaimer: While this glossary in most cases is likely to be highly accurate and useful, sometimes, for any number of editorial, transcription, technical, and other reasons, it might not be. Additionally, as somtimes you may have found yourself brought to this page through an automated term matching system, you may find definitions here that do not match the cotext or application in which you saw the original term. Please use your good judgement when using this resource.
© 2023 Dauntless Aviation • 4950C York Road 110, Buckingham, PA, 18912, USA • Contact Us • Privacy Policy