Welcome to the Dauntless Aviation Glossary!

At Dauntless, our editorial staff maintains the web's largest unified glossary of aviation terms. This glossary is built from a combination of official, quasi-official, and proprietary sources (including original material that we develop oursselves). Uniquely, we often provide multiple definitions of a given term so that you can find that which best applies to you. In order to maximize your learning efficiency, this glossary (and similar ones for our international users) is incresingly fully integrated into our aviation learning apps, including our FAA written test prep and FAA practical test prep software and apps. If you like this glossary, you'll love them with their polished learning environments and world's best and clearest content (please do give them a try.).
Stick Shaker
An artificial stall warning device that vibrates the control column.
source: FAA Airplane Flying Handbook (FAA-H-8083-3A)
an aircraft stall warning system which when triggered by the angle of attack sensor causes the stick or control column to vibrate so that the pilot gives a nose-down order
source: ICAO English Pro Aviation Glossary
A stick shaker is a mechanical device to rapidly and noisily vibrate the control yoke (the "stick") of an aircraft to warn the pilot of an imminent stall. A stick shaker is connected to the control column of most civil jet aircraft and large military aircraft. The stick shaker is a component of the aircraft's stall protection system, which is composed of fuselage or wing-mounted angle of attack sensors that are connected to an avionics computer. The computer receives input from the AOA sensors and a variety of other flight systems. When the data indicate an imminent stall, the computer actuates both the stick shaker and an auditory alert.

The shaker itself is composed of an electric motor connected to a deliberately unbalanced flywheel. When actuated, the shaker induces a forceful, noisy, and entirely unmistakable shaking of the control yoke. This shaking of the control yoke matches the frequency and amplitude of the stick shaking that occurs due to airflow separation in low-speed aircraft as they approach the stall. The stick shaking is intended to act as a backup to the auditory stall alert, in cases where the flight crew may be distracted.

In larger aircraft (especially in T-tailed jets that might be vulnerable to deep stall), some stall protection systems also include a stick pusher system to automatically push forward on the elevator control, thus reducing the aircraft's angle of attack and preventing the stall. Both systems have to be tested and armed before takeoff and remain armed during flight.

The vibration of the stick shaker is often heard on black box recordings of aircraft that entered a stall condition prior to a crash.
source: Wikitionary / Wikipedia and Related Sources (Edited)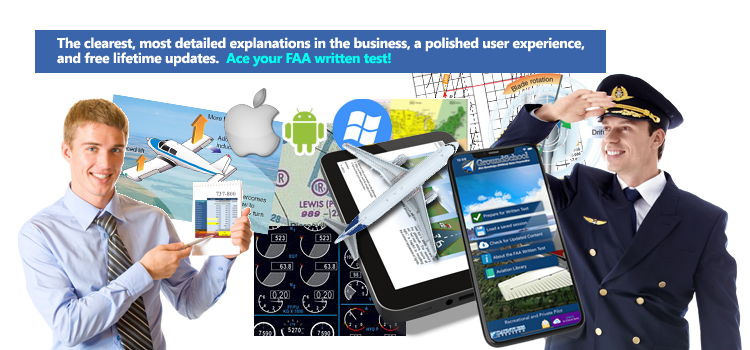 Ace Any FAA Written Test!

| | |
| --- | --- |
| | Actual FAA Questions / Free Lifetime Updates |
| | The best explanations in the business |
| | Fast, efficient study. |

Pass Your Checkride With Confidence!

| | |
| --- | --- |
| | FAA Practical Test prep that reflects actual checkrides. |
| | Any checkride: Airplane, Helicopter, Glider, etc. |
| | Written and maintained by actual pilot examiners and master CFIs. |

The World's Most Trusted eLogbook

| | |
| --- | --- |
| | Be Organized, Current, Professional, and Safe. |
| | Highly customizable - for student pilots through pros. |
| | Free Transition Service for users of other eLogs. |
Disclaimer: While this glossary in most cases is likely to be highly accurate and useful, sometimes, for any number of editorial, transcription, technical, and other reasons, it might not be. Additionally, as somtimes you may have found yourself brought to this page through an automated term matching system, you may find definitions here that do not match the cotext or application in which you saw the original term. Please use your good judgement when using this resource.
© 2023 Dauntless Aviation • 4950C York Road 110, Buckingham, PA, 18912, USA • Contact Us • Privacy Policy