Welcome to the Dauntless Aviation Glossary!

At Dauntless, our editorial staff maintains the web's largest unified glossary of aviation terms. This glossary is built from a combination of official, quasi-official, and proprietary sources (including original material that we develop oursselves). Uniquely, we often provide multiple definitions of a given term so that you can find that which best applies to you. In order to maximize your learning efficiency, this glossary (and similar ones for our international users) is incresingly fully integrated into our aviation learning apps, including our FAA written test prep and FAA practical test prep software and apps. If you like this glossary, you'll love them with their polished learning environments and world's best and clearest content (please do give them a try.).
Standard Briefing
A standard briefing provides a complete weather picture and is the most detailed of all briefings. This type of briefing should be obtained prior to the departure of any flight and should be used during flight planning. A standard briefing provides the following information in sequential order if it is applicable to the route of flight.
Conditions - This includes information about adverse conditions that may influence a decision to cancel or alter the route of flight. Adverse conditions include significant weather such as thunderstorms, aircraft icing, turbulence, wind shear, reduced visibilities and other important items such as airport closings.
VFR Flight NOT RECOMMENDED (VNR) - If the weather for the route of flight is below VFR minimums, or if it is doubtful the flight could be made under VFR conditions due to the forecast weather, the briefer may state that VFR is not recommended. The pilot can then decide whether or not to continue the flight under VFR, but this advisory should be weighed carefully.
Synopsis - The synopsis is an overview of the larger weather picture. Fronts and major weather systems along or near the route of flight and weather which may affect the flight are provided.
Current Conditions - This portion of the briefing contains the current surface weather observations, pilot weather reports (PIREPs), satellite and radar data along the route of flight. If the departure time is more than 2 hours away, current conditions will not be included in the briefing.
En Route Forecast - The en route forecast is a summary of the weather forecast for the proposed route of flight.
Destination Forecast - The destination forecast is a summary of the expected weather for the destination airport at the estimated time of arrival (ETA).
Winds and Temperatures Aloft - Winds and temperatures aloft is a forecast of the winds at specific altitudes along the route of flight. However, the temperature information is provided only on request.
NOTAMs - This portion supplies Notice to Airmen (NOTAM) information pertinent to the route of flight which has not been published in the Notice to Airmen publication. Published NOTAM information is provided during the briefing only when requested.
ATC Delays - This is an advisory of any known air traffic control (ATC) delays that may affect the flight.
Other Information - At the end of the standard briefing, the specialist will provide the radio frequencies needed to open a flight plan and to contact En Route Flight Advisory Service (EFAS). Any additional information requested is also provided at this time.
source: FAA/NOAA Aviation Weather Services (AC 00-45G)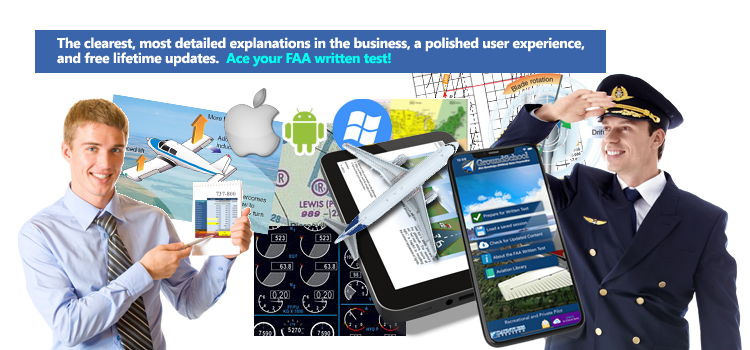 Ace Any FAA Written Test!

| | |
| --- | --- |
| | Actual FAA Questions / Free Lifetime Updates |
| | The best explanations in the business |
| | Fast, efficient study. |

Pass Your Checkride With Confidence!

| | |
| --- | --- |
| | FAA Practical Test prep that reflects actual checkrides. |
| | Any checkride: Airplane, Helicopter, Glider, etc. |
| | Written and maintained by actual pilot examiners and master CFIs. |

The World's Most Trusted eLogbook

| | |
| --- | --- |
| | Be Organized, Current, Professional, and Safe. |
| | Highly customizable - for student pilots through pros. |
| | Free Transition Service for users of other eLogs. |
Disclaimer: While this glossary in most cases is likely to be highly accurate and useful, sometimes, for any number of editorial, transcription, technical, and other reasons, it might not be. Additionally, as somtimes you may have found yourself brought to this page through an automated term matching system, you may find definitions here that do not match the cotext or application in which you saw the original term. Please use your good judgement when using this resource.
© 2023 Dauntless Aviation • 4950C York Road 110, Buckingham, PA, 18912, USA • Contact Us • Privacy Policy