Welcome to the Dauntless Aviation Glossary!

At Dauntless, our editorial staff maintains the web's largest unified glossary of aviation terms. This glossary is built from a combination of official, quasi-official, and proprietary sources (including original material that we develop oursselves). Uniquely, we often provide multiple definitions of a given term so that you can find that which best applies to you. In order to maximize your learning efficiency, this glossary (and similar ones for our international users) is incresingly fully integrated into our aviation learning apps, including our FAA written test prep and FAA practical test prep software and apps. If you like this glossary, you'll love them with their polished learning environments and world's best and clearest content (please do give them a try.).
Squelch
In telecommunications, squelch is a circuit function that acts to suppress the audio (or video) output of a receiver in the absence of a sufficiently strong desired input signal. Squelch is widely used in two-way radios to suppress the annoying sound of channel noise when the radio is not receiving a transmission.

A carrier squelch or noise squelch is the most simple variant of all. It operates strictly on the signal strength, such as when a television mutes the audio or blanks the video on "empty" channels, or when a walkie talkie mutes the audio when no signal is present. In some designs, the squelch threshold is preset. For example, television squelch settings are usually preset. Receivers in base stations at remote mountain top sites are usually not adjustable remotely from the control point.

In devices such as two-way radios (also known as radiotelephones), the squelch can be adjusted with a knob, others have push buttons or a sequence of button presses. This setting adjusts the threshold at which signals will open (un-mute) the audio channel. Backing off the control will turn on the audio, and the operator will hear white noise (also called "static" or squelch noise) if there is no signal present. The usual operation is to adjust the control until the channel just shuts off - then only a small threshold signal is needed to turn on the speaker. However, if a weak signal is annoying, the operator can adjust the squelch to open only when stronger signals are received.

A typical FM two-way radio carrier squelch circuit is noise operated. It takes out the voice components of the receive audio by passing the detected audio through a high-pass filter. A typical filter might pass frequencies over 4,000 Hz (4 kHz). The squelch control adjusts the gain of an amplifier which varies the level of noise coming out of the filter. The audio output of the filter and amplifier is rectified and produces a DC voltage when noise is present. The presence of continuous noise on an idle channel creates a DC voltage which turns the receiver audio off. When a signal with little or no noise is received, the noise-derived voltage goes away and the receiver audio is unmuted. Some applications have the receiver tied to other equipment that uses the audio muting control voltage as a "signal present" indication.
source: Wikitionary / Wikipedia and Related Sources (Edited)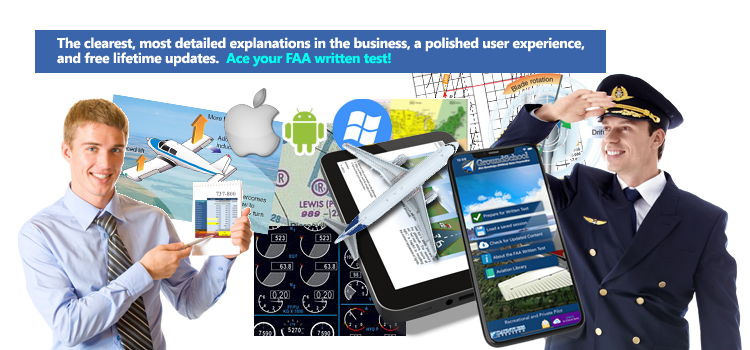 Ace Any FAA Written Test!

| | |
| --- | --- |
| | Actual FAA Questions / Free Lifetime Updates |
| | The best explanations in the business |
| | Fast, efficient study. |

Pass Your Checkride With Confidence!

| | |
| --- | --- |
| | FAA Practical Test prep that reflects actual checkrides. |
| | Any checkride: Airplane, Helicopter, Glider, etc. |
| | Written and maintained by actual pilot examiners and master CFIs. |

The World's Most Trusted eLogbook

| | |
| --- | --- |
| | Be Organized, Current, Professional, and Safe. |
| | Highly customizable - for student pilots through pros. |
| | Free Transition Service for users of other eLogs. |
Disclaimer: While this glossary in most cases is likely to be highly accurate and useful, sometimes, for any number of editorial, transcription, technical, and other reasons, it might not be. Additionally, as somtimes you may have found yourself brought to this page through an automated term matching system, you may find definitions here that do not match the cotext or application in which you saw the original term. Please use your good judgement when using this resource.
© 2023 Dauntless Aviation • 4950C York Road 110, Buckingham, PA, 18912, USA • Contact Us • Privacy Policy