Welcome to the Dauntless Aviation Glossary!

At Dauntless, our editorial staff maintains the web's largest unified glossary of aviation terms. This glossary is built from a combination of official, quasi-official, and proprietary sources (including original material that we develop oursselves). Uniquely, we often provide multiple definitions of a given term so that you can find that which best applies to you. In order to maximize your learning efficiency, this glossary (and similar ones for our international users) is incresingly fully integrated into our aviation learning apps, including our FAA written test prep and FAA practical test prep software and apps. If you like this glossary, you'll love them with their polished learning environments and world's best and clearest content (please do give them a try.).
ROLLOUT RVR
The ability, as determined by atmospheric conditions and expressed in units of distance, to see and identify prominent unlighted objects by day and prominent lighted objects by night. Visibility is reported as statute miles, hundreds of feet or meters. (Refer to 14 CFR Part 91.) (Refer to AIM.)
Flight Visibility- The average forward horizontal distance, from the cockpit of an aircraft in flight, at which prominent unlighted objects may be seen and identified by day and prominent lighted objects may be seen and identified by night.
Ground Visibility- Prevailing horizontal visibility near the earth's surface as reported by the United States National Weather Service or an accredited observer.
Prevailing Visibility- The greatest horizontal visibility equaled or exceeded throughout at least half the horizon circle which need not necessarily be continuous.
Runway Visibility Value (RVV)- The visibility determined for a particular runway by a transmissometer. A meter provides a continuous indication of the visibility (reported in miles or fractions of miles) for the runway. RVV is used in lieu of prevailing visibility in determining minimums for a particular runway.
Runway Visual Range (RVR)- An instrumentally derived value, based on standard calibrations, that represents the horizontal distance a pilot will see down the runway from the approach end. It is based on the sighting of either high intensity runway lights or on the visual contrast of other targets whichever yields the greater visual range. RVR, in contrast to prevailing or runway visibility, is based on what a pilot in a moving aircraft should see looking down the runway. RVR is horizontal visual range, not slant visual range. It is based on the measurement of a transmissometer made near the touchdown point of the instrument runway and is reported in hundreds of feet. RVR is used in lieu of RVV and/or prevailing visibility in determining minimums for a particular runway.
Touchdown RVR- The RVR visibility readout values obtained from RVR equipment serving the runway touchdown zone.
Mid-RVR- The RVR readout values obtained from RVR equipment located midfield of the runway.
Rollout RVR- The RVR readout values obtained from RVR equipment located nearest the rollout end of the runway. (See FLIGHT VISIBILITY.) (See GROUND VISIBILITY.) (See RUNWAY VISUAL RANGE.) (See VISIBILITY.)
source: FAA Pilot/Controller Glossary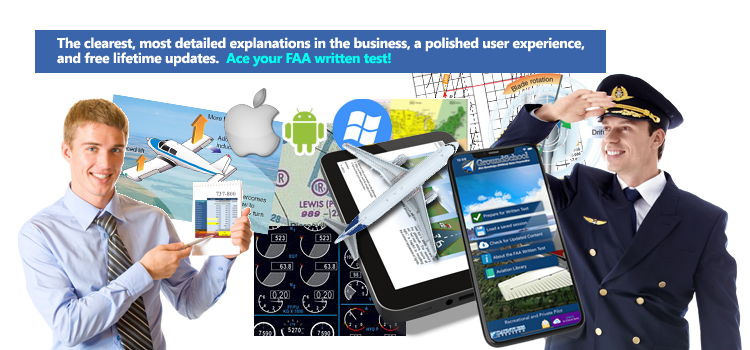 Ace Any FAA Written Test!

| | |
| --- | --- |
| | Actual FAA Questions / Free Lifetime Updates |
| | The best explanations in the business |
| | Fast, efficient study. |

Pass Your Checkride With Confidence!

| | |
| --- | --- |
| | FAA Practical Test prep that reflects actual checkrides. |
| | Any checkride: Airplane, Helicopter, Glider, etc. |
| | Written and maintained by actual pilot examiners and master CFIs. |

The World's Most Trusted eLogbook

| | |
| --- | --- |
| | Be Organized, Current, Professional, and Safe. |
| | Highly customizable - for student pilots through pros. |
| | Free Transition Service for users of other eLogs. |
Disclaimer: While this glossary in most cases is likely to be highly accurate and useful, sometimes, for any number of editorial, transcription, technical, and other reasons, it might not be. Additionally, as somtimes you may have found yourself brought to this page through an automated term matching system, you may find definitions here that do not match the cotext or application in which you saw the original term. Please use your good judgement when using this resource.
© 2022 Dauntless Aviation • 4950C York Road 110, Buckingham, PA, 18912, USA • Contact Us • Privacy Policy