Welcome to the Dauntless Aviation Glossary!

At Dauntless, our editorial staff maintains the web's largest unified glossary of aviation terms. This glossary is built from a combination of official, quasi-official, and proprietary sources (including original material that we develop oursselves). Uniquely, we often provide multiple definitions of a given term so that you can find that which best applies to you. In order to maximize your learning efficiency, this glossary (and similar ones for our international users) is incresingly fully integrated into our aviation learning apps, including our FAA written test prep and FAA practical test prep software and apps. If you like this glossary, you'll love them with their polished learning environments and world's best and clearest content (please do give them a try.).
ETOPS
Extended over-water operation means—
With respect to aircraft other than helicopters, an operation over water at a horizontal distance of more than 50 nautical miles from the nearest shoreline; and
With respect to helicopters, an operation over water at a horizontal distance of more than 50 nautical miles from the nearest shoreline and more than 50 nautical miles from an off-shore heliport structure.
source: FAA Federal Aviation Regulations (CFR 14 Part 1)
Extended Twin Operations: the use of long-haul, twin-engine aircraft over the sea, desert or arctic regions where there is no suitable airport within 60 minutes of flight which can be used in case of a diversion being necessary following the loss of an engine. A more facetious interpretation of the acronym 'ETOPS' is 'Engines Turning Or Passengers Swimming'!
source: ICAO English Pro Aviation Glossary
ETOPS is an aviation acronym for Extended-range Twin-engine Operational Performance Standards. It refers to the standards and recommended practices (SARPS) issued by ICAO for aircraft (such as the Airbus A300, A310, A320, A330 and A350, the Boeing 737, 757, 767, 777, 787, the Embraer E-Jets, and the ATR 72) to fly long-distance routes that were previously off-limits to twin-engined aircraft. There are different levels of ETOPS certification, each allowing aircraft to fly on routes that are a certain amount of single-engine flying time away from the nearest suitable airport. For example, if an aircraft is certified for 180 minutes, it is permitted to fly any route not more than 180 minutes single-engine flying time to the nearest suitable airport. ETOPS operation has no direct correlation to water or distance over water. It refers to flight times between diversion airfields, regardless as to whether such fields are separated by water or land. In aviation vernacular, the colloquial backronym is "Engines Turning Or Passengers Swimming," referring to the inevitable emergency water landing of a twin engine aircraft after a double engine failure over water outside gliding range of land.

According to the FAA in the Federal Register, "This final rule applies to air carrier (part 121), commuter, and on-demand (part 135) turbine powered multi-engine airplanes used in extended-range operations. However, all-cargo operations in airplanes with more than two engines of both part 121 and part 135 are exempted from the majority of this rule. Today's rule establishes regulations governing the design, operation and maintenance of certain airplanes operated on flights that fly long distances from an adequate airport. This final rule codifies current FAA policy, industry best practices and recommendations, as well as international standards designed to ensure long-range flights will continue to operate safely." Prior to 2007, FAA defined ETOPS as "Extended Range Operations with two-engine airplanes" and applied to twins only. International Civil Aviation Organization (ICAO) Standard and Recommended Practice (SARP) applies only to twins and defines ETOPS as "Extended-range Twin-engine Operational Performance Standards".

ETOPS applies to twins on routes with diversion time more than 60 minutes at one engine inoperative speed. For rules that also cover more than two engines, as in the case of the FAA, ETOPS applies on routes with diversion time more than 180 minutes for airplanes with more than two engines. Until the mid-1980s, the term EROPS (extended range operations) was used before being superseded by ETOPS usage. In 1997, when Boeing proposed to extend ETOPS authority for twins to beyond 180 minutes, Airbus proposed to replace ETOPS by a newer system, referred to as LROPS or Long Range Operational Performance Standards, which would affect all civil airliners, not just those with a twin-engine configuration with more than 180 minutes ETOPS. According to the FAA in 2007, "Several commenters … recommended use of the acronym "LROPS"—meaning 'Long Range Operations'—for three- and four-engine ETOPS, to avoid confusion, particularly for those operations beyond 180-minutes diversion time. The FAA has decided to use the single term, 'extended operations,' or ETOPS, for all affected operations regardless of the number of engines on the airplane." Government-owned aircraft (including military) do not have to adhere to ETOPS regulations.
source: Wikitionary / Wikipedia and Related Sources (Edited)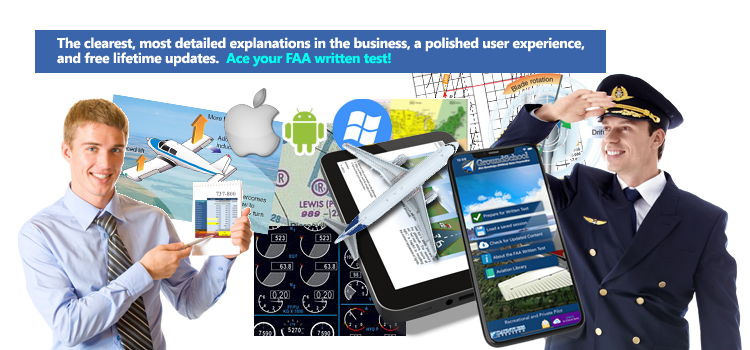 Ace Any FAA Written Test!

| | |
| --- | --- |
| | Actual FAA Questions / Free Lifetime Updates |
| | The best explanations in the business |
| | Fast, efficient study. |

Pass Your Checkride With Confidence!

| | |
| --- | --- |
| | FAA Practical Test prep that reflects actual checkrides. |
| | Any checkride: Airplane, Helicopter, Glider, etc. |
| | Written and maintained by actual pilot examiners and master CFIs. |

The World's Most Trusted eLogbook

| | |
| --- | --- |
| | Be Organized, Current, Professional, and Safe. |
| | Highly customizable - for student pilots through pros. |
| | Free Transition Service for users of other eLogs. |
Disclaimer: While this glossary in most cases is likely to be highly accurate and useful, sometimes, for any number of editorial, transcription, technical, and other reasons, it might not be. Additionally, as somtimes you may have found yourself brought to this page through an automated term matching system, you may find definitions here that do not match the cotext or application in which you saw the original term. Please use your good judgement when using this resource.
© 2022 Dauntless Aviation • 4950C York Road 110, Buckingham, PA, 18912, USA • Contact Us • Privacy Policy