Welcome to the Dauntless Aviation Glossary!

At Dauntless, our editorial staff maintains the web's largest unified glossary of aviation terms. This glossary is built from a combination of official, quasi-official, and proprietary sources (including original material that we develop oursselves). Uniquely, we often provide multiple definitions of a given term so that you can find that which best applies to you. In order to maximize your learning efficiency, this glossary (and similar ones for our international users) is incresingly fully integrated into our aviation learning apps, including our FAA written test prep and FAA practical test prep software and apps. If you like this glossary, you'll love them with their polished learning environments and world's best and clearest content (please do give them a try.).
Clearance
An authorization by air traffic control for the purpose of preventing collision between known aircraft, for an aircraft to proceed under specified traffic conditions within controlled airspace. The pilot-in-command of an aircraft may not deviate from the provisions of a visual flight rules (VFR) or instrument flight rules (IFR) air traffic clearance except in an emergency or unless an amended clearance has been obtained. Additionally, the pilot may request a different clearance from that which has been issued by air traffic control (ATC) if information available to the pilot makes another course of action more practicable or if aircraft equipment limitations or company procedures forbid compliance with the clearance issued. Pilots may also request clarification or amendment, as appropriate, any time a clearance is not fully understood, or considered unacceptable because of safety of flight. Controllers should, in such instances and to the extent of operational practicality and safety, honor the pilot's request. 14 CFR Part 91.3(a) states: "The pilot in command of an aircraft is directly responsible for, and is the final authority as to, the operation of that aircraft." THE PILOT IS RESPONSIBLE TO REQUEST AN AMENDED CLEARANCE if ATC issues a clearance that would cause a pilot to deviate from a rule or regulation, or in the pilot's opinion, would place the aircraft in jeopardy. (See ATC INSTRUCTIONS.) (See AIR TRAFFIC CONTROL CLEARANCE.)
source: FAA Pilot/Controller Glossary
ATC permission for an aircraft to proceed under specified traffic conditions within controlled airspace, for the purpose of providing separation between known aircraft.
source: FAA Pilot's Handbook of Aeronautical Knowledge (FAA-H-8083-25A)
ATC permission for an aircraft to proceed under specified traffic conditions within controlled airspace, for the purpose of providing separation between known aircraft. Code of Federal Regulations (CFR). Regulations issued by the U.S. Federal Government as published in the Federal Register.
source: FAA Weight Shift Control Handbook (FAA-H-8083-5)
phraseology referring to authorisation: expect onward clearance at time 38
removal of an obstacle: snow clearance is under way
distance between a moving object and a potential obstacle: monitor our wing tip clearance; the engine ground clearance on the B737 is quite small
source: ICAO English Pro Aviation Glossary
The act of clearing or something (such as a space) cleared
The distance between two moving objects, especially between parts of a machine
The height or width of a tunnel, bridge or other passage, or the distance between a vehicle and the walls or roof of such passage; a gap, headroom.
A permission for a vehicle to proceed, or for a person to travel.
A permission to have access to sensitive or secret documents or other information
A sale of merchandise at a reduced price.
source: Wikitionary / Wikipedia and Related Sources (Edited)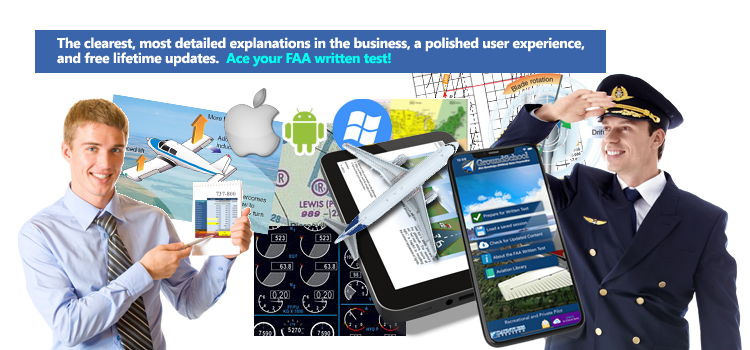 Ace Any FAA Written Test!

| | |
| --- | --- |
| | Actual FAA Questions / Free Lifetime Updates |
| | The best explanations in the business |
| | Fast, efficient study. |

Pass Your Checkride With Confidence!

| | |
| --- | --- |
| | FAA Practical Test prep that reflects actual checkrides. |
| | Any checkride: Airplane, Helicopter, Glider, etc. |
| | Written and maintained by actual pilot examiners and master CFIs. |

The World's Most Trusted eLogbook

| | |
| --- | --- |
| | Be Organized, Current, Professional, and Safe. |
| | Highly customizable - for student pilots through pros. |
| | Free Transition Service for users of other eLogs. |
Disclaimer: While this glossary in most cases is likely to be highly accurate and useful, sometimes, for any number of editorial, transcription, technical, and other reasons, it might not be. Additionally, as somtimes you may have found yourself brought to this page through an automated term matching system, you may find definitions here that do not match the cotext or application in which you saw the original term. Please use your good judgement when using this resource.
© 2022 Dauntless Aviation • 4950C York Road 110, Buckingham, PA, 18912, USA • Contact Us • Privacy Policy