Welcome to the Dauntless Aviation Glossary!

At Dauntless, our editorial staff maintains the web's largest unified glossary of aviation terms. This glossary is built from a combination of official, quasi-official, and proprietary sources (including original material that we develop oursselves). Uniquely, we often provide multiple definitions of a given term so that you can find that which best applies to you. In order to maximize your learning efficiency, this glossary (and similar ones for our international users) is incresingly fully integrated into our aviation learning apps, including our FAA written test prep and FAA practical test prep software and apps. If you like this glossary, you'll love them with their polished learning environments and world's best and clearest content (please do give them a try.).
Altocumulus Lenticularis
Lenticular clouds (Altocumulus lenticularis) are stationary lens-shaped clouds that form in the troposphere, normally in perpendicular alignment to the wind direction. Lenticular clouds can be separated into altocumulus standing lenticularis (ACSL), stratocumulus standing lenticular (SCSL), and cirrocumulus standing lenticular (CCSL). Because of their shape, they have been offered as an explanation for some Unidentified Flying Object (UFO) sightings.

As air flows along the surface of the Earth, it encounters obstructions. These are man-made objects, such as buildings and bridges, and natural features, like hills, valleys, and mountains. All of them disrupt the flow of air into eddies. The strength of the eddies depends on the size of the object and the speed of the wind. It results in turbulence classified as 'mechanical' because it is formed through the "mechanical disruption of the ambient wind flow". Where stable moist air flows over a mountain or a range of mountains, a series of large-scale standing waves may form on the downwind side. If the temperature at the crest of the wave drops to the dew point, moisture in the air may condense to form lenticular clouds. As the moist air moves back down into the trough of the wave, the cloud may evaporate back into vapor. Under certain conditions, long strings of lenticular clouds can form near the crest of each successive wave, creating a formation known as a "wave cloud." The wave systems cause large vertical air movement, enough that water vapor may condense to produce precipitation. The clouds have been mistaken for UFOs (or "visual cover" for UFOs), particularly the round "flying saucer"-type, because these clouds have a characteristic lens appearance and smooth saucer-like shape; also, because lenticular clouds generally do not form over low-lying or flat terrain, many people have never seen one and are not aware clouds with that shape can exist. Bright colors (called irisation) are sometimes seen along the edge of lenticular clouds. These clouds have also been known to form in cases where a mountain does not exist, but rather as the result of shear winds created by a front.

Pilots of powered aircraft tend to avoid flying near lenticular clouds because of the turbulence of the rotor systems that accompany them, but glider pilots actively seek them out. The precise location of the rising air mass is fairly easy to predict from the orientation of the clouds. "Wave lift" of this kind is often very smooth and strong, and enables gliders to soar to remarkable altitudes and great distances. The current gliding world records for both distance (over 3,000 km; 1,864 mi) and altitude (15,460 m; 50,721 ft) were set using such lift.
source: Wikitionary / Wikipedia and Related Sources (Edited)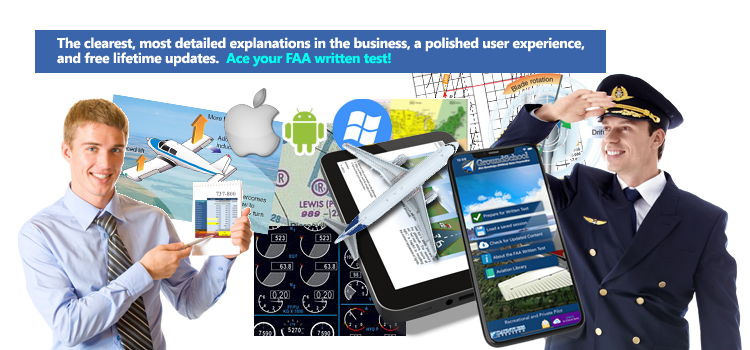 Ace Any FAA Written Test!

| | |
| --- | --- |
| | Actual FAA Questions / Free Lifetime Updates |
| | The best explanations in the business |
| | Fast, efficient study. |

Pass Your Checkride With Confidence!

| | |
| --- | --- |
| | FAA Practical Test prep that reflects actual checkrides. |
| | Any checkride: Airplane, Helicopter, Glider, etc. |
| | Written and maintained by actual pilot examiners and master CFIs. |

The World's Most Trusted eLogbook

| | |
| --- | --- |
| | Be Organized, Current, Professional, and Safe. |
| | Highly customizable - for student pilots through pros. |
| | Free Transition Service for users of other eLogs. |
Disclaimer: While this glossary in most cases is likely to be highly accurate and useful, sometimes, for any number of editorial, transcription, technical, and other reasons, it might not be. Additionally, as somtimes you may have found yourself brought to this page through an automated term matching system, you may find definitions here that do not match the cotext or application in which you saw the original term. Please use your good judgement when using this resource.
© 2023 Dauntless Aviation • 4950C York Road 110, Buckingham, PA, 18912, USA • Contact Us • Privacy Policy