Welcome to the Dauntless Aviation Glossary!

At Dauntless, our editorial staff maintains the web's largest unified glossary of aviation terms. This glossary is built from a combination of official, quasi-official, and proprietary sources (including original material that we develop oursselves). Uniquely, we often provide multiple definitions of a given term so that you can find that which best applies to you. In order to maximize your learning efficiency, this glossary (and similar ones for our international users) is incresingly fully integrated into our aviation learning apps, including our FAA written test prep and FAA practical test prep software and apps. If you like this glossary, you'll love them with their polished learning environments and world's best and clearest content (please do give them a try.).
AIRMET
Procedures used at USAF bases to provide increased launch and recovery rates in instrument flight rules conditions. ASLAR is based on:
Reduced separation between aircraft which is based on time or distance. Standard arrival separation applies between participants including multiple flights until the DRAG point. The DRAG point is a published location on an ASLAR approach where aircraft landing second in a formation slows to a predetermined airspeed. The DRAG point is the reference point at which MARSA applies as expanding elements effect separation within a flight or between subsequent participating flights.
ASLAR procedures shall be covered in a Letter of Agreement between the responsible USAF military ATC facility and the concerned Federal Aviation Administration facility. Initial Approach Fix spacing requirements are normally addressed as a minimum.
source: FAA Pilot/Controller Glossary
In-flight weather advisories issued only to amend the area forecast concerning weather phenomena which are of operational interest to all aircraft and potentially hazardous to aircraft having limited capability because of lack of equipment, instrumentation, or pilot qualifications. AIRMETs concern weather of less severity than that covered by SIGMETs or Convective SIGMETs. AIRMETs cover moderate icing, moderate turbulence, sustained winds of 30 knots or more at the surface, widespread areas of ceilings less than 1,000 feet and/or visibility less than 3 miles, and extensive mountain obscurement. (See AWW.) (See CONVECTIVE SIGMET.) (See CWA.) (See SIGMET.)
source: FAA Pilot/Controller Glossary
Inflight weather advisory issued as an amendment to the area forecast, concerning weather phenomena of operational interest to all aircraft and that is potentially hazardous to aircraft with limited capability due to lack of equipment, instrumentation, or pilot qualifications.
source: FAA Pilot's Handbook of Aeronautical Knowledge (FAA-H-8083-25A)
An AIRMET is a concise description of the occurrence or expected occurrence of specified en route weather phenomena which may affect the safety of aircraft operations, but at intensities lower than those which require the issuance of a SIGMET. AIRMETs are intended for dissemination to all pilots in flight to enhance safety and are of particular concern to operators and pilots of aircraft sensitive to the phenomena described and to pilots without instrument ratings. AIRMETs are issued by the responsible Meteorological Watch Office (MWO) to give notice to operators and aircrews of potentially hazardous en route conditions.
source: FAA/NOAA Aviation Weather Services (AC 00-45G)
Airman's Meteorological advisory (WA)
source: NOAA National Weather Service Glossary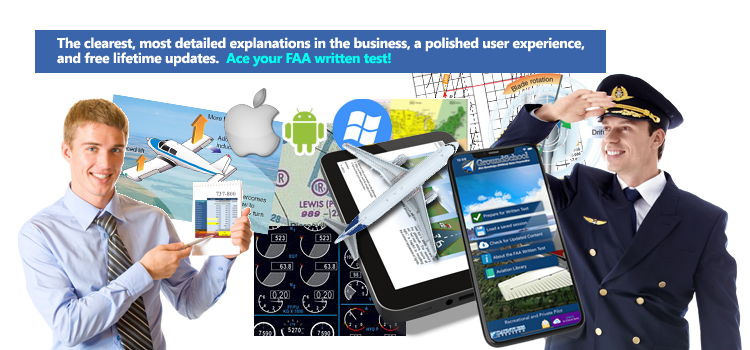 Ace Any FAA Written Test!

| | |
| --- | --- |
| | Actual FAA Questions / Free Lifetime Updates |
| | The best explanations in the business |
| | Fast, efficient study. |

Pass Your Checkride With Confidence!

| | |
| --- | --- |
| | FAA Practical Test prep that reflects actual checkrides. |
| | Any checkride: Airplane, Helicopter, Glider, etc. |
| | Written and maintained by actual pilot examiners and master CFIs. |

The World's Most Trusted eLogbook

| | |
| --- | --- |
| | Be Organized, Current, Professional, and Safe. |
| | Highly customizable - for student pilots through pros. |
| | Free Transition Service for users of other eLogs. |
Disclaimer: While this glossary in most cases is likely to be highly accurate and useful, sometimes, for any number of editorial, transcription, technical, and other reasons, it might not be. Additionally, as somtimes you may have found yourself brought to this page through an automated term matching system, you may find definitions here that do not match the cotext or application in which you saw the original term. Please use your good judgement when using this resource.
© 2023 Dauntless Aviation • 4950C York Road 110, Buckingham, PA, 18912, USA • Contact Us • Privacy Policy